Dolni Morava offers a lot of experience
even in the spring, summer, autumn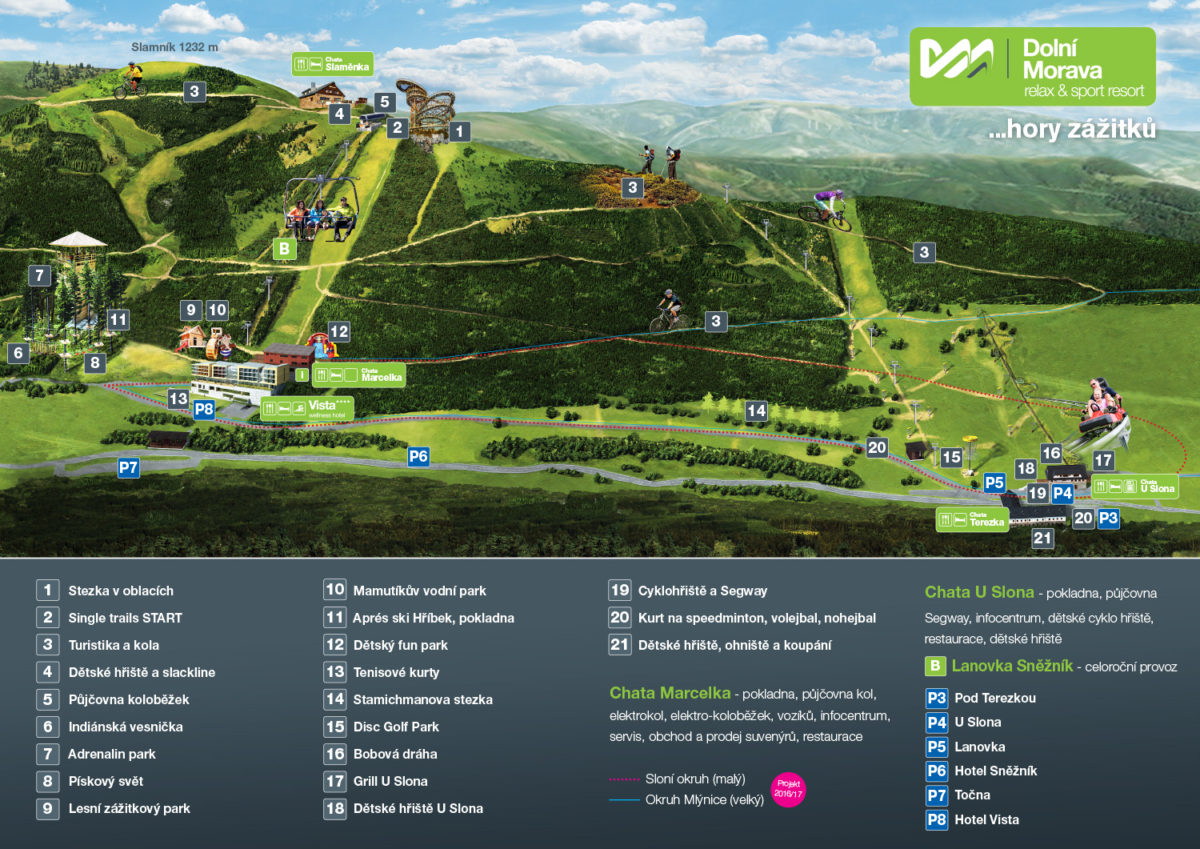 Aktiv recreation in Dolni Morava
Sky Walk Dolni Morava – Tennis court – Football Ground – The Little Mammoth's water park – Forrest Adventure Park – A Sand World – Hiking and Mountain Biking – Mountain & ELECTRO-bike rental – Segway Adventure x2 rental – Rope park – Bobsled Run – Power Fun – freefall jump – Double Big Swing – Climbing wall & zip line – Kid's Fun Park

The Little Mammoth's water park
The Little Mammoth's water park is one large water playground where you and your children can have a lot of fun with water.
The First Water Park of its Kind in the Czech Republic
All features of the park are interactive and the visitors may try them, regulate them, touch them or twist them.
At the upper part of the park, water trickles in small creeks that ramify and create branches that may be regulated by small water gates, some disappear below the surface and others propel mill wheels. The creeks flow into a small river, which connects the whole park, brings water into other parts of the park and flows into a paddle pool.
The small river brings water into troughs, water gates and wooden barrelswhere you can experiment with small wooden boats.
The park features a host of interesting fixtures and machines, which you can try out and explore on your own – the Tirol Dam, the Lost Wheel, the Power Plant, the Hammer, Archimedes, Irrigation and others.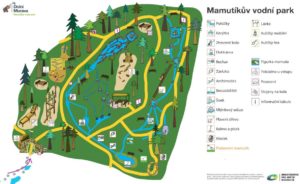 Mamutíkův vodní park
Forrest Adventure Park
Sitting on trees at various heights, the four fairy-tale houses cater for children of all age categories. The "Playroom" is suitable for children as young as 3 years. There, they can have fun and experiment with interactive games and tools. The "Hut"  features a working table with tools for small artisans and DIY men and a kitchen with dishes for small cooks.
Bigger children who are not afraid can venture to the "Hide in the Wild", where they can learn about rules for surviving in nature. The last house, which is highest in the tree, can only be reached by the bravest children, as they have to overcome a rope bridge or a climbing tunnel. But it is worth it as there is a huge spiral slide to bring you down! On the ground and in the air there are connecting suspended footpaths, stud trails or a system of flying lianas. Thus, small Tarzans and acrobats will find their paradise. After a long day full of games and experiences, you can have rest in the hammocks or swings of various sizes.
A Sand World
WILD WEST – The School, the Station, the Jail, the Mining and the Saloon huts. The huts can be reached through a climbing net, a climbing wall or a ladder, while a slide will bring you down. There is a railway with trains transporting sand.
BIG ARCHEO – Explore archeologic remains and a mammoth's skeleton. Available are archaeologist's working tools such as shovels, trowels and brushes.
FREE ARCHEO – Carved artefacts dating from the period of mammoth hunters – a javelin, a necklace, a jar, a human bone, a statue and a flint.
ANIMAL FOOTPRINTS – you can make various animal footprint in the sand.
SMALL SAND SET – A bucket for carrying sand, a sand conveyor, funnels for sand and a working table for those who like to play with the sand.
BIG SAND SET – A sand conveyor, buckets for sand and, most importantly, a true sand train running along a rail track.
GOLD – Panning for gold and gems. Here you can really try it!
CAROUSEL
SPECIAL SEE-SAW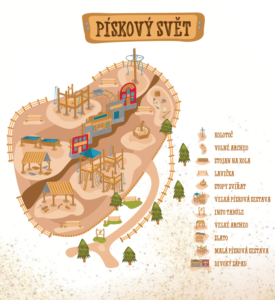 Rope park Dolni Morava
The largest rope course in the Czech Republic for everyone who likes fun, adventure, adrenalin and unforgettable moments.
Fun for individuals and groups. Perfect for families, kids, school groups or corporate teams. Following an induction, participants set out for the selected route.
There are wooden platforms on each tree (or pole) so that climbers can overtake each other or have a rest. The obstacles alternate with various zip lines, jumps and swings that make the course interesting and fun. Participants have to ensure their own safety the whole time; using climbing equipment they clip in at the marked safety points.
The descent is usually on a zip line landing on the ground or in a net. There are 80 high-rope obstacles where participants are attached to a lanyard for safety.  High-rope obstacles are divided into 5 independent circuits based on their difficulty from pink route for the smallest climbers to black route for the fearless where you get up to 13 meters high.
The pink route for the smallest climbers has the following obstacles: Tram, Spider, Hoard, Swamp, Small Sacks or Elephant's Feet.  In the blue circuit you will find obstacles such as the Broken Bridge, Unstable Ladder, Ladder Crossing, Maneuvers or Surfboards.
Another route is red with obstacles called Monkey Bridge, Double Straps, Broken Slippers, Horizontal Ladders and Trapeze.  On the green route you will find obstacles such as Tires, Lion Circles, Barrel, SK8 and Double Yard.  The most difficult route is black; it is designed for the best climbers with obstacles such as Shaolin, Scam, Single Rope or Jump.
Bobsled run
Excellent attraction and adrenalin adventure on one of the longest and the most interesting bobsled tracks in the Czech Republic.  
You can ride the new type of safe bobsled track with numerous turns, 360 degree turns and terrain bumps up to 6 metres high. Plan a trip with children or friends and enjoy this cool, more than one kilometre long ride…
Screaming is allowed.
Power Fan – freefall jump
Powerfan means both a very rapid descent from an elevation and a gentle landing.  The Powerfan is an intelligent device for adrenalin production that will safely release during the freefall without needing to deploy a parachute or strap your ankles to a bungee cord.  This is enabled by a fan mechanism that constantly and safely controls the fall.  Each participant wears a harness that is attached through a carabiner to a rope wound on a coil.
When a fearless participant steps off a platform in order to begin their descent; the rope is unwound from the coil and turns the fan.  The fan absorbs the energy of the descending person whilst ensuring a gentle landing on the ground.
The Powerfan is not driven by any engine and does not require an external power source.  Everything is driven only by the descending person.  The Powerfan is capable of controlling thousands of falls without major maintenance. There is also a counter to keep track of the number of descents and regulate servicing and maintenance schedules.
Who can jump?
Minimum age requirement is 6 years; maximum age is not directly set; it depends on participant's own judgment.  Minimum weight is 20kg and maximum weight is 120kg.
Double Big Swing
One of the features of the multifunctional tower is the Big Double Swing. It is a giant swing for two people from 13 metres.  You will sit down; get harnessed in; hold on tight and fly…
Climbing wall & zip line
An impressive 14-metre tall wooden tower is the pinnacle of the rope centre.  It is a perfect base for the Powerfan, the Big Swing and has 400 metres of zip lines in total that start from the highest point of the tower.  The successive zip lines start at the tower above the ski run and continue through the forest finishing back in the rope park.  There is a rock climbing wall on two walls of the tower that is suitable for both experienced climbers and beginners.
Kid's Fun Park
The park with popular activities and attractions was built next to the rope park at Après-ski Hříbek where parents can sit down, relax and have something to eat or drink while watching their children play.
The newly built playground and activities are aimed for children of all ages. Absolutely anyone can have a romp there.
For the little ones there is a slide and a playground directly at the buffet.  All kids can enjoy:
Jumping castle with a slide
Bungee trampoline
Trampolines
Carousel for the smallest ones and a big hit
částečně převzato z webu Sněžník.a.s.